As someone who spends a lot of time working and gaming, I know how important it is to have a comfortable and supportive chair. The best office chairs should be able to handle a full working day, whether you're typing away at your desk or spending a few hours gaming. They should be comfortable, supportive, and solid, so you can stay focused and productive. And while there are plenty of great gaming chairs out there, sometimes you need something a little more professional-looking for the office. That's where the best office chairs come in. These chairs combine the ergonomics of a gaming chair with a more professional style, making them perfect for office use. And if they're good enough for hedge fund managers, you can bet they'll work for you too.
Of course, a good office chair for gaming isn't going to be cheap. Quality furniture is always going to come with a higher price tag, especially when it comes to leather upholstery and lumbar support. But these chairs are all sturdy, well-built products that should last you for years. So, it's worth setting a budget and thinking about what's most important to you. And don't forget that a quality chair is just one part of a healthy office setup. It's also a good idea to think about desk-based ergonomics and how to best support your spine and the rest of your body. Your body (and your back) will thank you.
Here is a list of the best chairs for gaming and office you should check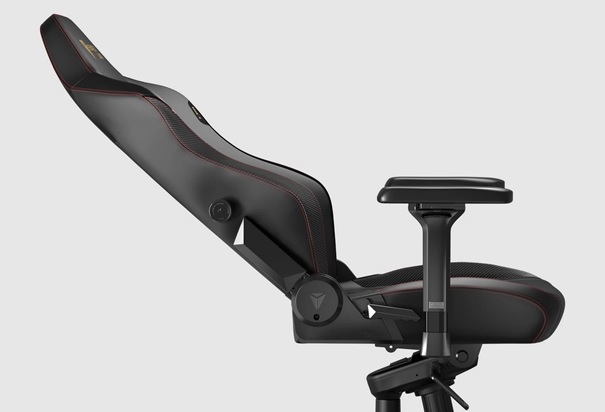 I'm a huge fan of the Secretlab Titan Evo chair. It comes in a ton of different color schemes and upholstery styles, including Prime PU leather, SoftWeave fabric, and genuine NAPA leather. There are also plenty of Special Edition options to choose from. And with two different sizes – one with a maximum capacity of 290 lbs and one that can hold up to 395 lbs – there's a Secretlab Titan Evo that will fit anyone.
If you're looking for even more comfort, you might want to consider the updated Secretlab Titan Evo 2022. It shares many of the same design elements as the original, but it's even more comfortable. And with a wide range of aesthetic options – from simple faux leather or cloth finishes to designs inspired by your favorite games or esports teams – you can find a chair that fits your personal style. Secretlab has also recently released its SoftWeave Plus Fabric finishes in different colors, so there are even more options to choose from.
When it comes to ergonomics, the Secretlab Titan Evo really stands out. With adjustable built-in lumbar support, cold-cure memory foam padding, and a fully magnetic memory foam head pillow, it's designed to keep you comfortable and supported no matter how long you're sitting. All in all, the Secretlab Titan Evo is an excellent chair that I highly recommend.
If you're looking for one of the best chairs for gaming and office out there, you've probably heard of the Herman Miller Embody. It's been a popular choice for office workers and gamers alike for years, and now it's even better thanks to a partnership with Logitech. The Herman Miller Embody is a high-end chair, with a price tag of $1,595 (£1,195), but it's worth every penny. It's incredibly comfortable, even over long periods of use, and it supports an active and healthy posture. Plus, it's fully adjustable, so you can find the perfect fit for your body.
One of the standout features of the Herman Miller Embody is its long warranty. It's rated for 24-hour use over a period of 12 years, including labor. And your back will thank you, too – the Embody is designed to support your posture and prevent heat build-up with its copper-infused cooling foam.
Of course, the Herman Miller Embody isn't just comfortable – it's also stylish. It may not have the typical "gamer" look, but it's a premium piece of furniture that's sure to fit in with any decor. It comes in a few different color options. The chair features a backfit adjustment, smooth tilt, and four breathable layers in the seat for maximum comfort and airflow. Plus, it's fully adjustable, so you can customize it to fit your body perfectly. All in all, the Herman Miller Embody is an excellent gaming chair that's definitely worth considering.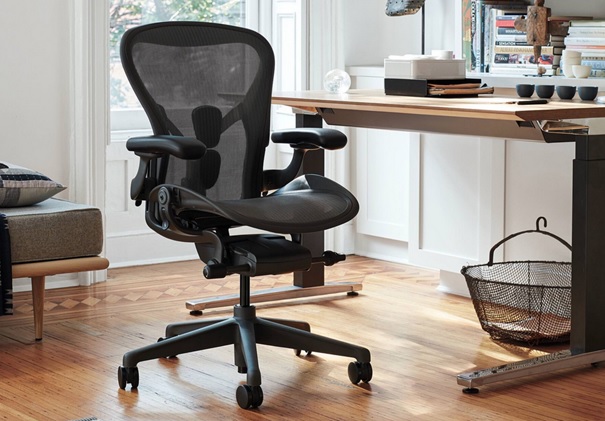 The Herman Miller Aeron office chair is designed to meet the needs of today's workers and gaming environments. Co-designed by industrial designer Don Chadwick and using the latest research on the science of sitting, this innovative and ergonomic chair can accommodate a wide range of activities and postures. The chair back and seat are linked and tilt simultaneously at different ratios as you lean back, providing responsive support for your lower back. It's also easily adjustable, from intense forward-facing focus to a more relaxed, contemplative recline.
When Bill Stumpf and Don Chadwick designed the Herman Miller Aeron Chair, they combined their deep knowledge of human-centered design with innovative technology to create a task chair like no other. Now, the Aeron has been remastered in almost every way, resulting in a chair that better supports people and the work they do today. The 8Z Pellicle suspension seat and back is divided into eight zones of varying tension, which cradle and support the body. The PostureFit SL backrest supports the spine while maintaining the natural forward tilt of the pelvis, with adjustable individual pads that provide lumbar support and stabilize the base of the spine for a stronger seated posture.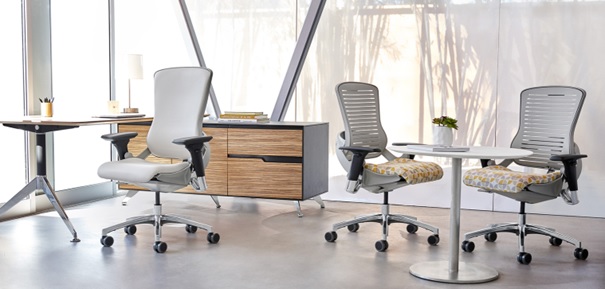 At first glance, the Office Master OM5 might seem like a gimmicky chair with its claims of being "a self-weighing chair that intuitively responds to a wide range of body weights and sizes without the need for manual tension." But after sitting in it, it's clear that the OM5 is the real deal. While there are still manual adjustments available, the magic of the OM5 is in the way it supports your back and hips. As you lean back and apply pressure, the seat pan shifts forward while the backrest reclines in response, thanks to wheels on runners that function similarly to desk drawer sliders. It takes a little getting used to, but once you do, transitioning from upright work mode to relaxing while gaming becomes a breeze.
If you want comfort without the hassle of levers and adjustments, the OM5 is a top choice. It offers high-end quality and comfort at a mid-range price.
Some other highlights of the OM5 include a 12-year warranty on all structural components and a 5-year warranty on fabrics and foam, a non-locking mechanism that provides continuous lumbar support in any position, and a single lever for adjusting the seat height. One important thing to note is that the chair back is not lockable – this is by design to allow for micro movements while sitting. Overall, the Office Master OM5 is a comfortable and supportive office task chair that's perfect for gaming.
The Humanscale Freedom office chair is known for its high quality build and innovative design. It is available in both fabric and leather versions. This is a high-end office chair made from graphite and fabric, with a few plastic parts. It has a range of adjustable features, including the height of the seat, the location of the seat pan, the height of the backrest, and the headrest. The backrest is flexible and adjusts to the user's body and movement, supporting the spine without requiring any manual adjustments. The chair has easily adjustable levers and sliders, except for the armrests which can only be adjusted in heigh.
A "self-weighing" feature is included in the Humanscale Freedom which intuitively responds to the user's body weight and size without the need for manual tension. Despite a few minor flaws, the Humanscale Freedom is a highly comfortable and ergonomic chair suitable for both office work and gaming. It offers high-end quality and comfort at a mid-range price and comes with a 12-year warranty on all structural components, with 5 years on fabrics and foam.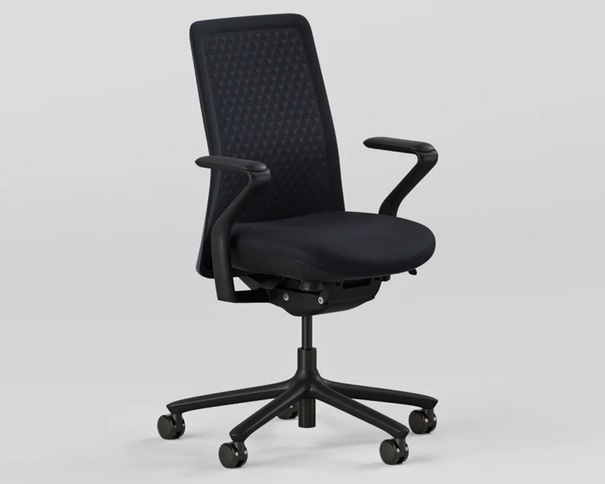 The Branch Verve is a perfect combination of style and functionality. It offers comfort for both work and play, and its intuitive and easy-to-use adjustments make it a great choice for people who want a chair that's easy to use. The chair features a plush seat and a 3D fabric backrest that provides a comfortable hammock-like feel. Its stylish design and affordable price make it a great alternative to other premium options on the market.
One of the best things about the Verve is that it makes adjustments effortless. Its chair tilt, seat depth, and seat height adjustments are all within arm's reach, and the lumbar rest can be easily adjusted by reaching both arms back and pushing up or down. The armrest height adjustments are also easy to use. The only minor issue with the chair is the tilt tension cycle dial, which requires a bit of muscle to turn.
Overall, the Verve is a great chair that offers excellent comfort and style without the extra frills that often drive up the price of other chairs. Its breathable foam, fabric, and mesh material provide both comfort and support, and it's slim armrests make it easy to slip the chair under a desk when needed. We've never experienced back fatigue or pain while using the Verve, and it's suitable for people who put in long hours of work or gaming.
What should you look for when buying the best chair for gaming and office?
I recommend looking for gaming chairs that offer adjustable lumbar support for added comfort. Memory foam lower back and neck pillows are often found in entry-level and mid-range models, but many top brands now offer chairs with built-in support mechanisms. Consider the adjustability of the chair's height, arms, and back as well. Some chairs are more flexible and versatile than others. Look for a chair that is comfortable enough for all-day use, will last for years, and has a good recline feature. Choose the one that best meets your needs.
Conclusion
In conclusion, it's important to consider both comfort and adjustability when choosing the best chair for gaming and office work. Memory foam lower back and neck pillows can be a good option for entry-level and mid-range models. The adjustable lumbar support is a great feature for added comfort. It's also important to look for chairs with a good recline and adjustability in height, arms, and back. With these factors in mind, you can find a chair that is comfortable for all-day use, will last for years, and fits your personal style.
FAQ
Are gaming chairs good for all day use?
Yes, they are designed for extended use. However, cheaper options may have reduced comfort and support features or may not be as durable. It's important to consider the quality of a chair before purchasing.
How much should I spend on an gaming and office chair?
The answer depends on your budget. But it's generally a good idea to invest in a high-quality chair that will keep you comfortable. Cheap chairs tend to feel cheap and may not have the same level of ergonomic design as more expensive models. However, it is possible to find a good mid-range chair that doesn't break the bank.
Does every chair fit every body type?
No, different chair models are designed to accommodate different heights and weights. Be sure to check the fit before purchasing. Consider the width and depth of the seat as well as the height of the chair. Some chairs may recommend sitting cross-legged, but this depends on your size and leg length.
Can a good chair help with posture?
Yes, the best chairs for gaming and office offer support for your back and help you maintain an ideal posture. Look for chairs with built-in lumbar support or lumbar support pillows, as well as adjustable armrests, upholstery, and style. These features may come at a higher price. They are worth it for the long-term comfort and support they provide.
See also