Are you tired of dropped calls and poor reception at home? It's time to upgrade your cell phone setup with a signal booster! These handy devices amplify your existing cell phone signal, giving you stronger, more reliable coverage inside your home. No more frustrating dead zones or lost connections.
With a signal booster for cell phone at home, you can enjoy crystal-clear calls and fast data speeds no matter where you are in your house. Keep reading to learn more about the best signal boosters on the market and how to choose the right one for you!
Factors to consider when choosing a cell phone signal booster
When choosing a cell signal booster, there are several factors to consider:
Coverage area
Choose a signal booster that can cover the area you need. Coverage area may vary based on the original signal strength, antenna type, and antenna location.
Type of antenna
Cell signal boosters use different types of antennas, each with its own advantages and disadvantages. Omnidirectional antennas can capture a wide range of signals, but may not boost a specific signal as effectively.
Compatibility with your carrier
Choose a cell signal booster that is compatible with your carrier. Most boosters work with multiple carriers, but it's important to confirm compatibility.
Power output
A cell signal booster's power output refers to the amount of amplification it provides. Higher power output can lead to stronger signals, but also requires more power and generates more heat.
Price
Consider your budget when selecting a cell signal booster. Prices can vary widely depending on the type and features of the signal booster.
Ease of installation
Some cell signal boosters are relatively easy to install, while others may require professional installation. Consider your level of expertise and available resources when choosing a signal booster.
Top cell phone signal boosters for home or small offices to use in 2023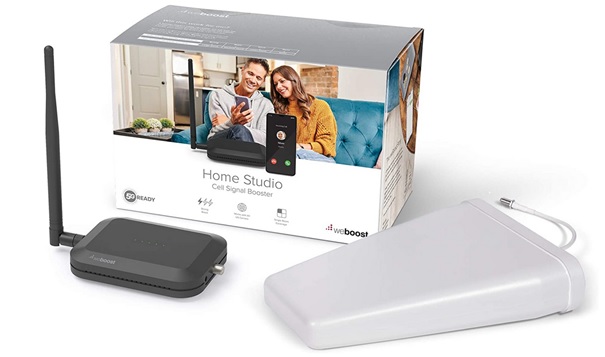 Boost your weak cell signal in a specific room with the weBoost cell signal booster. This booster is compatible with all U.S. carriers, including Verizon, AT&T, T-Mobile, and UScellular, and supports the latest 5G technology for the best speed and service on any smartphone. FCC approved with 60 dB max gain, weBoost offers expert U.S. customer support through our app, chat, phone, or email. Plus, our booster is backed by a two-year warranty and comes with step-by-step installation videos and instructions through our weBoost App. So, it's easy to install and use.
The Cel-Fi PRO for AT&T includes everything you need for the best 4G and LTE connection – no external antennas required. It features an easy-to-read LCD color interface and is fully self-contained and self-configuring. Plus, the Cel-Fi PRO for AT&T extends the life of your phone's battery.
Easily strengthen your mobile service at any location with the Cel-Fi PRO for AT&T in 4 easy steps: use your phone to find the best signal (usually near a window), place the NU (Network Unit) where you get the best signal, place the CU (Coverage Unit) where you need improved coverage, and use the Cel-Fi WAVE app to finish setup and activation.
SureCall's Flare 3.0 signal amplifier boosts weak signal in 2-4 rooms, covering up to 3500 sq ft inside any home or small office. This results in fewer dropped calls, improved battery life, higher audio quality, and faster data and streaming for AT&T, T-Mobile, Verizon, Sprint, Straight Talk, U.S. Cellular and many more. Flare 3.0 boosts 5G/4G LTE voice, text, and data signals for all North American carriers, including Verizon's 5G Nationwide data signals. Maximum Gain: 72 dB.
Installation is easy – set up the Yagi outdoor antenna, run the cable into your home, and place the cellular amplifier (base unit) where you want. The Flare 3.0 does not require cables or drilling for the indoor antenna, as it has the indoor antenna integrated into the amplifier. Resembling a speaker, the Flare 3.0 fits in any modern room and can be placed wherever improved cellular signal is needed. The amplifier will automatically boost your signal.
How to install and set up a cell phone signal booster at home
You can install retail cellular boosters yourself without drilling, although it's best to hide cables against baseboards. Find the optimal antenna position outside your home.
SureCall and weBoost offer professional installation services for an extra fee. Consider your budget and DIY skills when deciding whether professional installation is worth it.
Conclusion
In conclusion, a cell phone signal booster can be a valuable investment for improving your home's cell phone reception. When choosing a signal booster, consider factors such as compatibility with your phone and carrier, coverage area, strength of the booster, indoor and outdoor antenna options, ease of installation, and price. There are many different brands and models available, each with its own unique features and benefits. Carefully weigh your options and choose a signal booster that meets your specific needs and budget.
FAQ
Do cell phone signal boosters actually work?
Yes, cell phone signal boosters can improve the strength and reliability of your cell phone signal. They work by amplifying the existing signal in your home or office, which can help to reduce dropped calls and improve call quality, data speeds, and battery life.
How can I boost my cell phone signal at home?
To improve cell signal in your home, you can use a cell phone signal booster or a femtocell. Femtocells create signal in a small area (1-2 rooms) by using your home's internet connection, but they require landline internet and are only available for certain carriers. Cell phone signal boosters create more coverage for all carriers, but they require existing signal to boost. If you have no signal near your home, a femtocell may work for you. If you have some signal, a cell phone signal booster is the better choice.
Do cell phone boosters work in rural areas?
Cell phone boosters can be a useful tool for improving cell phone reception in rural areas, but it is important to choose a reputable brand and model and to consider the specific characteristics of your location in order to achieve the best possible results. For more info you can check the article Professional Cell Phone Boosters for Rural Areas
Can I boost my cell phone signal in a car with cell phone signal booster?
Yes, use a cell phone signal booster specifically designed for use in a car. These boosters amplify the existing signal and can help to improve call quality and data speeds. For more info you can check the article Top 5 Car Boosters for Cell Phone to use in 2023