When it comes to translation, there are many options available to us. We can turn to friends or dictionaries for help, or use a browser extension to translate words on the fly. But what if we prefer not to install an extension, or if our company doesn't allow it? In these cases, free online translators can be a convenient solution for quickly translating words or sentences to other languages.
And some of these translators even offer additional features that make them even more useful. In this article, we will explore some of the best online translators available and provide tips on how to choose the right one for your needs. Don't forget to bookmark your favorite translators to English so that it's always at your fingertips.
List of the Best Free and Professional Online Translators


Looking for a reliable online translator? Google Translate is a top choice, and you can easily find it by searching for "translators" on Google. The best part is, the Google Translate website will appear at the top of your search results, so you don't even have to visit another website. If you have a lot of text to translate, the Google Translate website is the way to go. It provides plenty of space for your text and gives you the option to input it either by handwriting or using a keyboard. Plus, you can save, listen to, share, or copy the translated text, and even suggest edits if you think the translation is incorrect. With support for over 100 languages, Google Translate has got you covered.


Bing is another great option for free online translation. It uses Microsoft Translator and allows you to select your input language or have it automatically detected as you type. Plus, if you have your microphone enabled, you can simply speak the text you want to translate – how convenient is that? Once you receive the translation, you can hear it aloud in a male or female voice, share it, or search Bing with it. You can even give the translation a thumbs-up or thumbs-down if you want to provide feedback. With support for over 60 languages, Bing's free translator is a real bargain.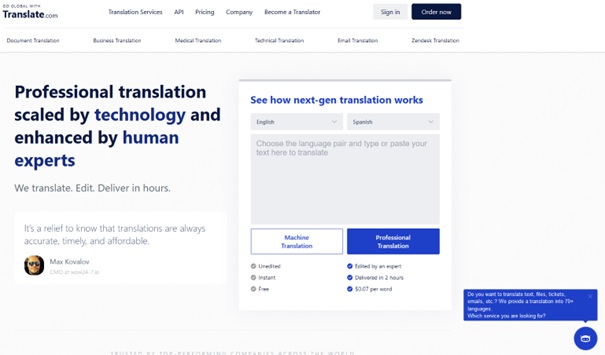 Translate.com is another great translator that uses Microsoft's service and supports over 30 languages. You can enter your text using your voice or keyboard, then read or listen to the translation. If you think the translation needs to be reviewed, you can get a human translation for the first 100 words for free. Just click the contact icon and sign in or create an account if you're new to the tool.

Reverso is a website that provides a variety of free communication technologies, including translation, spelling and grammar checks, dictionaries, context checkers, and more. It uses Neural Machine Translation (NMT), an artificial neural network-based approach to machine translation. Reverso supports many popular languages, including German, Spanish, English, Chinese, Japanese, and more. It currently serves around 60 million active users online and is also available as a browser extension and app for various platforms, including Android, iPhone, Mac, and Windows.

PROMT Online Translator is a translator with a limited number of languages but some nice features. It uses automatic language detection and even lets you choose a topic for the translation. You can copy, paste, check the spelling, or access a dictionary, and there's even a virtual keyboard for easy input on tablets. PROMT also offers translation software for purchase and download, and the online website translator is available as an app for Android and iOS users.
Tips for choosing the right online translator
Here are some tips for choosing the right online translator:
Check the supported languages: Make sure the online translator supports the language you need to translate from and to.
Consider the quality of the translation: Some online translators produce translations of higher quality than others. You may want to read reviews or test the translator with a small sample of text to determine its accuracy.
Check for additional features: Some online translators offer additional features such as the ability to translate entire web pages or to pronounce translated words out loud. These features can be useful depending on your needs.
Consider the cost: Some online translators are free to use, while others charge a fee for certain features or for translations of a certain length.
Check for user-friendliness: Make sure the online translator is easy to use and navigate. It should have a clear interface and intuitive controls.
Conclusion
In conclusion, online translators can be a valuable tool for breaking down language barriers. They are also facilitating communication in a globalized world. Whether you need to translate a few words or an entire webpage, there is an online translator that can meet your needs. With a wide range of options available, it's important to consider factors such as the supported languages, the quality of the translation, additional features, cost, and user-friendliness when selecting the best online translator for your needs. Don't be afraid to try out multiple translators to find the one that works best for you.