Looking for the best affordable gaming chairs under $300? We've got you covered. If you're a gamer, you know how important comfort and support are while you play. That's why it's important to find a chair that fits your needs and budget. Before you make a purchase, consider how many hours you play daily, how much you rely on your chair for support and comfort, and if you also use it for work.
Once you have a better idea of your needs, you can narrow down your options and find the perfect chair. Check out our guide at the bottom of the article for more help. Stop the search and start gaming comfortably again with the perfect chair.
Best Gaming Chairs under $300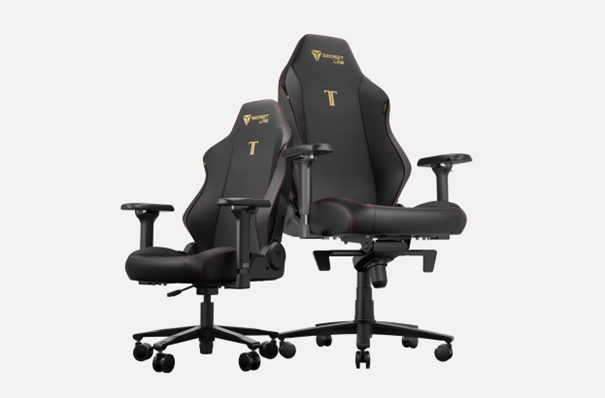 The Secretlab TITAN XXS is an excellent gaming chair option for kids or individuals with a smaller frame. This chair is a great value, especially considering that it is manufactured by Secretlab, a highly respected brand in the gaming chair industry. The TITAN XXS is available in three different styles: Stealth (Hybrid Leatherette) for $299, Plush Pink (SoftWeave Fabric) for $319, and Frost Blue (SoftWeave Fabric) for $319. All of these styles feature adjustable armrests that can be easily adjusted to the ideal height for the user, as well as locking casters that provide added safety for little gamers.
In order for the hydraulic piston to activate, the chair requires a minimum weight of 90 lbs. Additionally, the Secretlab TITAN XXS has been certified for durability and safety by international authorities, ensuring that it is a reliable and trustworthy option. However, it should be noted that this chair must be assembled by an adult in order to function properly. Despite its small size, the TITAN XXS can support up to 155 lbs, making it a versatile and sturdy choice.
As the smallest member of the Secretlab family, the TITAN XXS was specifically designed with younger gamers in mind. It incorporates the same design and engineering as the original full-size TITAN chair, but in a more compact package. While it is intended to be a collectible chair, it is also durable enough to withstand use by kids. In fact, the TITAN XXS has been certified under the category of children's furniture according to Furniture Industry Research Association (FIRA) standards.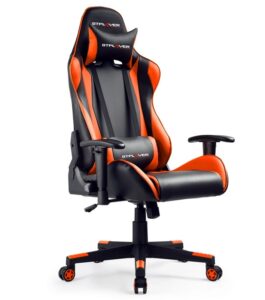 GTPlayer has made it a priority to design gaming chairs that are both stylish and comfortable enough for professional gamers. The GTPlayer Gaming Chair is no exception. It's ergonomically designed with a sturdy metal frame and a thick padded seat, ready for hours of comfortable gaming. The armrests are adjustable – both up and down and pivoting – to keep your arms supported. The chair also has height adjustment, which is easy to use. You can lock the backrest into an upright or reclined position, depending on your mood, with the reclining and rocking features. It's made of high-quality materials like smooth PU leather upholstery, a thickly padded seat cushion made of high-density foam, a hard-wearing chair base, and smooth-running nylon castors for high stability and mobility.
This GTPlayer Gaming Chair is one of the best gaming chairs for the price. It has a professional style. It's a great addition to any gaming setup. The chair has dimensions of 52.98 cm (length) x 54 cm (width) x 124 cm-132 cm (height), and it has a maximum weight capacity of 136 kg. It's ergonomically designed with a strong metal frame that promotes a comfortable sitting position, and it has a thickly padded backrest and seat for added comfort.
The GTPlayer Gaming Chair is multifunctional with adjustable armrest and seat height, a reclining and rocking position of 90-170 degrees, 360-degree rotatable, a 5-point base with a high load capacity, smooth rolling, and detachable pillows for extra support. It's suitable for both gaming and office use, with a modern and stylish appearance that fits perfectly in a playroom or home office. It will keep you comfortable during long gaming or work sessions.
Looking for a gaming chair that can also be used for work? The Dowinx 6689s Classic Series Chair is a great option. It has a winged back that provides multi-point contact to the lumbar and spinal regions, while maintaining an ergonomic shape and offering massage support. The chair is available at a low price of $229.00 and comes in black.
It has a USB-powered massager that can be powered through a computer or power bank, allowing you to enjoy a comfortable massage for extended periods of time. The chair also has 360-degree swivel and 90° to 180° reclining functionality, an adjustable seat height, and a capacity of 350 lbs. It has a rocking mechanism and 4D armrests for added comfort.
It comes with a one-year warranty and the company offers 24/7 customer service for smooth transactions and excellent after-sales service. The chair is made from vintage leather and can match a wide range of settings. The lumbar and headrest pillows provide support for any body type. With 360° swivel and smooth caster wheels, you can easily move around in this chair, making it perfect for office work, gaming, reading, or napping.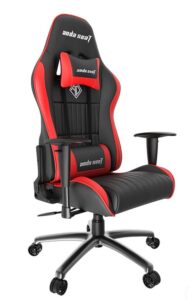 If you're looking for a gaming chair that is both resilient and strong, the AndaSeat Jungle Series Premium Gaming Chair is an excellent choice. AndaSeat's Re-Dense Moulded Foam technology enhances the chair's density, longevity, and helps prevent sagging over time, ensuring that it will hold up well for long periods of use. The chair is priced reasonably at $299.99 and is available in a stylish black and red color combination.
It's a medium-sized chair with a 90° to 160° reclining functionality, and it has received an impressive 4.8 out of 5 stars from 67 reviews. It's made using PVC leather and comes with a medium-sized neck pillow and an extra-large lumbar pillow to help keep your spine properly aligned and support your lower back.
This ergonomic design helps prevent potential health issues that can arise from sitting for long periods, making it a great choice for gamers who spend many hours at their desks. The chair also boasts of having the best Class-4 gas piston, which has been certified by the Société Générale de Surveillance (SGS) for its durability and explosion-proof qualities. Overall, the AndaSeat Jungle Series Premium Gaming Chair is a well-made, comfortable, and stylish choice that is sure to satisfy your gaming needs.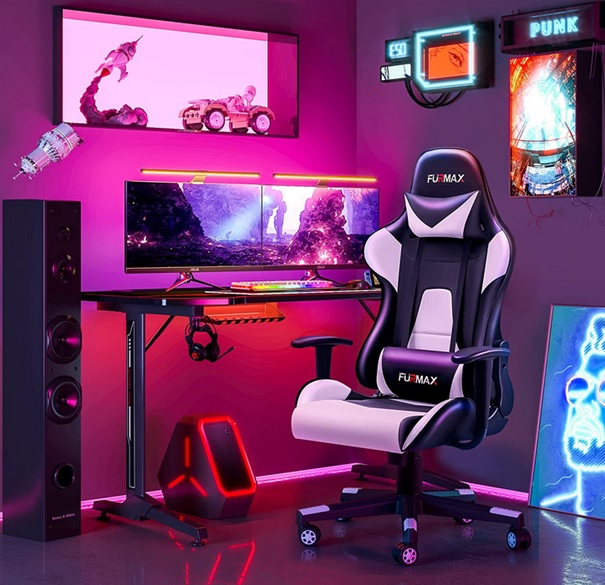 The Furmax Racing Style Gaming Office Chair is a high-quality, comfortable chair made of black and carbon fiber leather with a high-density thicker sponge inside. It has a highly durable construction made of a tubular steel frame, plastic, a headrest, and freely adjustable lumbar support that provides an ultra comfortable experience.
The chair also has an upgraded controller that allows it to rock back and forth and has a 360-degree swivel and a 90-150 degree backwards movement. It has smooth-rolling casters that are anti-scratch and protect the floor. It's perfect for use in the office, at home, and for gaming.
It has a Class-3 Explosion-proof gas spring that meets international standards and has been verified by SGS, UL, and BIFMA. It has an easy lock-tilt adjustment with a recline angle adjuster that helps relieve tiredness and pressure after long hours of gaming or work.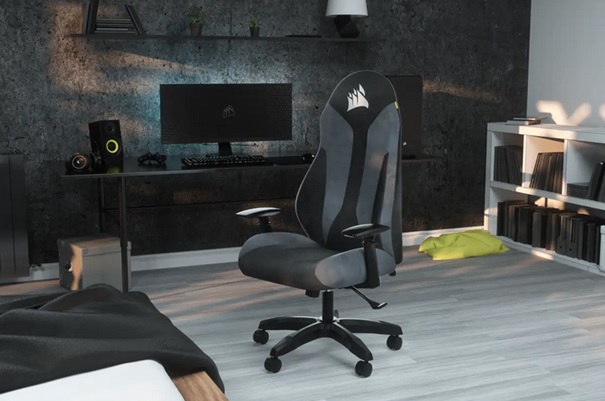 When you use the Corsair TC60 FABRIC Gaming Chair, you'll immediately notice its high build quality and thoughtful design choices. The chair has a breathable cloth exterior that provides a relaxed and comfortable fit, making it a great choice for both office and gaming use. It retails for $289.99 and comes in a black color.
The chair has a package size of 38.5 in x 69.5 in x 15 in and a gross weight of 56 lbs, with a weight capacity of 265 lbs. It has adjustable features such as a tilt angle between 0-10° and a back angle up to 105°, as well as 60mm dual wheel casters that allow it to glide easily across all surfaces. The chair is equipped with high-density foam that provides support and comfort for your entire body. It has a soft fabric material for the seats, a wide seat, and adjustable armrests that move in three dimensions. The chair also has a 105° reclining seat that is in sync with the 10° seat tilt, giving you maximum comfort at any angle.
The Corsair TC60 FABRIC Gaming Chair comes with a two-year warranty.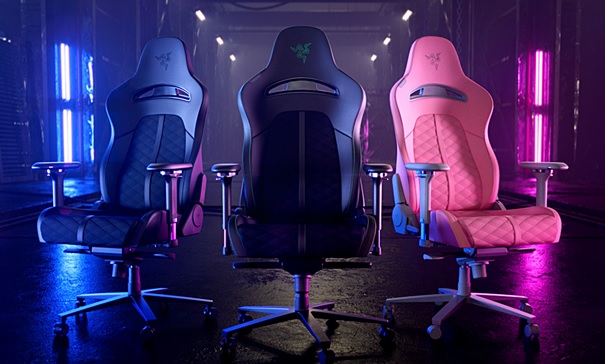 The Razer Enki X is an adjustable chair that offers a 152-degree recline to help you achieve maximum comfort, whether you're sitting back and relaxing or sitting up. It also has an integrated headrest that provides a seamless and sleek aesthetic. The chair retails for $299.00 and comes in black and green colors. It has a height capacity of 5'2″ to 6'4″ and a weight capacity of 300 lbs. It's made of EPU synthetic leather and comes with a three-year warranty.
The Razer Enki X has been designed to provide all-day comfort with its optimized cushion density and built-in lumbar arch. If you're new to Razer products, you can take advantage of their 14-day risk-free trial, which allows you to try out the chair without worrying about the cost of returning it.
The chair is made of a steel base and metal frame, along with 2D armrests, and is equipped with 2.5″ PU-coated casters, making it one of the most stable and durable chairs on the market. It also has built-in lumbar support, a Class-4 gas lift, high-density PU molded foam, and a three-year warranty.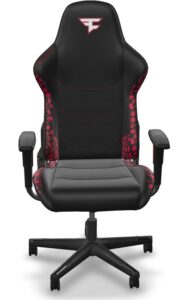 The Respawn 110 is a comfortable chair that offers a 135-degree recline and infinite angle lock for relaxed sitting or serious gaming. It has an integrated headrest for a seamless and sleek aesthetic. The chair retails for $249.00 and comes in a gray fabric color. It has a package size of 53.7 in x 28.7 in x 26.4 in and a weight capacity of 275 lbs. It's made of EPU synthetic leather and comes with a three-year warranty.
The Respawn 110 aims to provide a sleek and clean look while offering practicality, support, and comfort. It has a contoured foam seat and integrated lumbar support to keep your body comfortable and secure. The chair has a tilt tension knob that allows for a rocking motion, making it easy to move around. It also has a low-key color palette and low-maintenance fabric, allowing you to game in your style while enjoying the most comfortable seat of your life.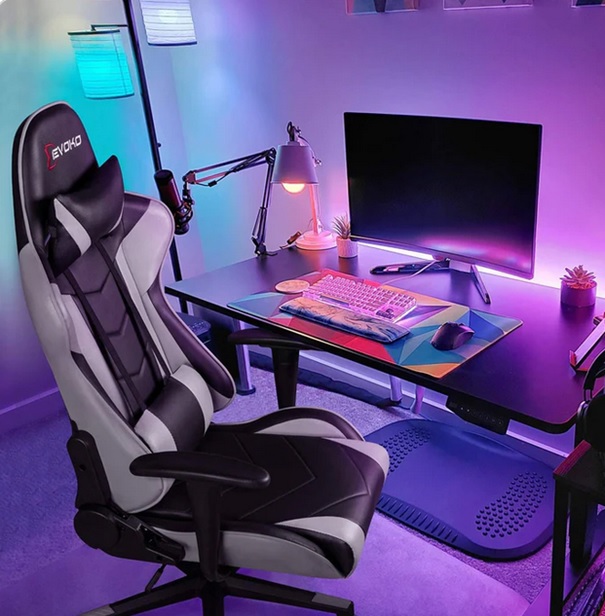 The Homall ergonomic gaming chair is designed to provide comfort for long gaming and working sessions. The chair is covered in breathable leather and comes with an adjustable lumbar support and headrest pillow to protect your spine and neck. It features a 360-degree swivel and top quality rolling wheels that won't scratch your floor.
The chair has a heavy duty metal frame and explosion-proof gas spring that meet international standards, making it suitable for gaming, TV watching, and office work. You can adjust the chair's tilt and recline to relieve tiredness and pressure.
The Homall gaming chair can hold up to 300 lbs and has a seating area of 19.8″x20.5″ and a backrest of 19.8″x30.5″.
The package includes a new gaming chair, installation tools, an installation instruction, and friendly after-sale service.
The Vitesse is a great option for gamers looking for an ergonomic chair that won't break the bank. It features a deep and wide seat with an ergonomic design and high back racing style that provides comfort and support for your shoulders, upper back, and neck.
The chair is upholstered in easy-to-clean leather, which should last a long time, and it has a Class-3 gas lift and a metal frame that can support up to 300 lbs. It has a 180-degree recline feature that allows you to lie flat.
The Vitesse comes in six different color options, including two all-black models, and it comes with a 90-day free replacement or parts guarantee. Some users may find the seat cushioning could be thicker, and the assembly process might be a little tricky. However, overall, this is a solid chair for gamers that offers good value for the price.
How we picked the best gaming chair under $300
It can be tough to find a good one that's also affordable, right? That's why we're here to help. When shopping for a gaming chair, it's important to consider a few things. First and foremost, you'll want to find a chair that's comfortable and fits your body type.
After all, you'll be spending a lot of time in it, so you want to be sure it's just right. It's also important to think about the chair's features, such as adjustability and aesthetics. And, of course, you'll want to ensure that the chair is worth the investment – in this case, under $300.
We've taken all of these factors into account when compiling our list of the best gaming chairs in this price range, so you can feel confident in your purchase.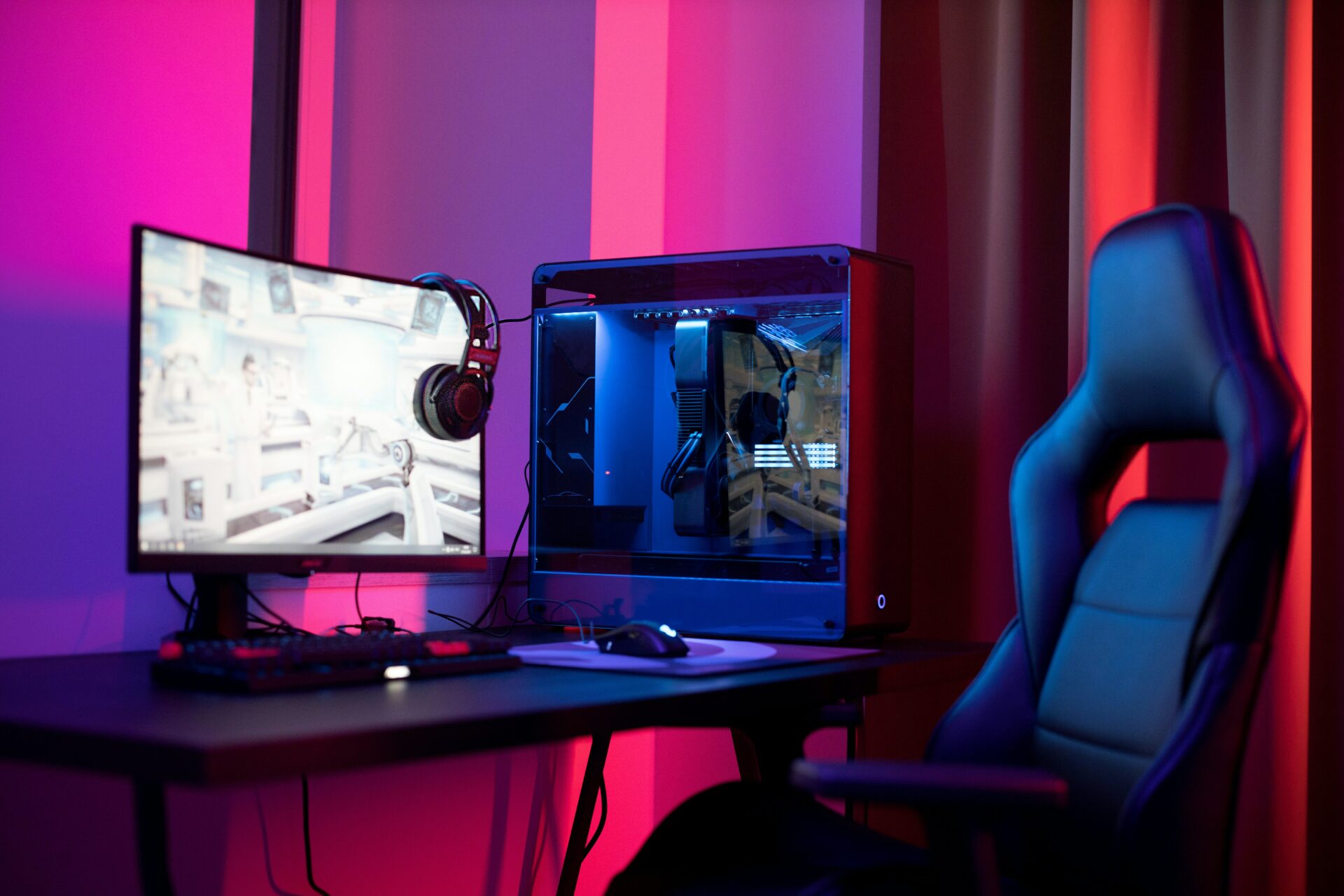 Things to Consider
Types Of Gaming Chairs
As you search for the perfect gaming chair under $300, keep in mind that price is an important factor. However, there are also many other factors to consider when choosing a gaming chair.
There are various types of gaming chairs available:
rocking gaming chairs
pedestal gaming chairs
racer gaming chairs
PC gaming chairs
Each of these types of chairs has its own unique features and characteristics, so it's important to consider which type of chair will best meet your needs.
Ergonomic Design
I have seen the word "ergonomic" a lot while searching for a comfortable chair. It means that it is designed to be easy and comfortable for humans to use. An ergonomic gaming chair, designed to fit the human body well, can improve comfort and spine health. Gaming chairs are made with the knowledge that people will sit in them for long periods of time. They often have adjustable components, removable headrests, and lumbar cushions.
Adjustable Components
As you search for the perfect gaming chair, it's essential to find one that fits your body and style. Keep in mind that not all chairs that get good reviews will work for you. The many different body shapes and sizes make it challenging for chair manufacturers to create a one-size-fits-all solution. That's where adjustable features come in handy. In this price range, you can expect to find chairs with good adjustability.
Make sure your chair has headrests, lumbar support, armrests, and footrests for maximum customization. Headrests can be adjusted up and down or removed, and lumbar cushions can be adjusted with a lever or removed with straps. Adjustable armrests are less common but are still important for comfortable use. They can be adjusted up and down, side to side, or pivot. Footrests aren't as common as the other features, but it's still good to have a sturdy and easily retractable one. Consider the height adjustment, seat recline, and backrest size too.
It can be difficult to find a chair that excels in all these categories, whether in this price range or in the premium tier.
Materials
When it comes to choosing a gaming chair, you have two main options: leather-like or mesh-like fabric. Both materials have their own benefits, so it's up to you to decide which one best fits your needs and preferences.
Many popular gaming chair brands use polyurethane leather, which is smooth and durable. However, leather chairs may not be as breathable as fabric or mesh chairs. Fabric chairs are less common among gaming chair brands, but they offer more breathability. If you're looking for a fabric chair, you may have more luck checking out traditional office chairs.
Keep in mind that for gaming chairs under $300, you may not find the most premium materials. However, it's still helpful to know about the wider market.
Style
It's important to consider the materials of your gaming chair because they can affect comfort, durability, and breathability. Leather-like and mesh-like fabrics are the most popular options. Leather chairs tend to be more durable and professional looking, but may not be as breathable. Fabric chairs, on the other hand, are more breathable, but may not be as common or durable as leather. While the style and appearance of the chair should be a minor factor in your decision, it's still important to choose a chair that fits your personal style and matches the aesthetic of your space.
FAQ
What Chairs Do Top Gamers Use?
If you're searching for a top gaming chair, you might want to consider brands like Razer and Secretlab. Many people trust Secretlab's Titan range and rave about the Razer Iskur range.
Ultimately, the right chair for you depends on your budget and preferences.
Are Gaming Chairs a Waste of Money?
If you work or have a long gaming session, it's worth investing in a gaming chair. While some people try using standing desks, medicine balls, or exercise bikes, these solutions can be expensive or uncomfortable for extended periods of time.
Gaming chairs, on the other hand, offer proper spinal alignment and support thanks to features like memory foam. This makes them a great choice for people who sit at their desks all day, as they can help support tired muscles and maintain good posture.
Are Office Chairs Better Than Gaming Chairs?
To find the best budget gaming chair, consider your needs, such as how long you will use it, where you will place it, and how much you want to spend. Also, think about your preferred design.
Gaming chairs are known for their good support for long sessions, adjustments, lumbar cushions, and high backs, making them a popular ergonomic choice.
If budget is not a concern, a premium office chair may offer a better experience. Consider the aesthetics of a gaming chair, as they may not fit well in small spaces or home offices. In these cases, an office chair may be a better option.
Can a good chair help with posture?
Yes, the best chairs for gaming and office offer support for your back and help you maintain an ideal posture. Look for chairs with built-in lumbar support or lumbar support pillows, as well as adjustable armrests, upholstery, and style. These features may come at a higher price. They are worth it for the long-term comfort and support they provide.
Conclusion
When you're looking for an affordable gaming chair, you'll want to consider :
the length of time you'll be using it
where you'll place the chair
your budget
Keep in mind that not all gaming chairs are the same, so choose one that meets your specific needs and preferences. You'll also want to consider the aesthetics of the chair, as it may not be suitable for smaller spaces or home offices. Overall, gaming chairs offer a better value for your money compared to office chairs, especially if you plan to use them strictly for gaming.
See also