Data loss can occur due to a variety of reasons, including accidental deletion or formatting; virus attack; system crash; physical damage during transfer; power failure, etc. In such cases, data recovery becomes necessary. There are many tools available in the market that claim to recover lost files and folders on your computer, but most of them are not very reliable.
Of course, in the most extreme of cases, you might really need a professional to deal with the data reco, but that's specially reserved for physical damage on the storage device. Remember that all storage solutions are prone to present some issues with time.
There's also the very real danger of a little something called data rot, but that's a subject for another day. Still, in case of real, physical damage to your storage unit it's better to go with a professional. Physical damage affects mostly mechanical storage units such as hard drives, but you can be facing issues with corrupted data on any kind of storage device. That's why there is some really user-friendly data reco software out there you can use.
Some of these tools are designed for specific operating systems and some of them can be used on any operating system. Some of them offer trial versions, while others have demo versions only. It is always better to try out a tool before actually buying it. But it's even better when the same apps offer their very own free version. Even when they may cut some functionality, they mostly include the basics and still provide an excellent way to view deleted files.
Below we've listed some of the best free data reco tools based on popularity, interface, reliability, and user reviews. We'll also briefly explain their features so you know what you're getting.
Recuva
This is one of the most popular data reco freeware applications available today. It was developed by Piriform and works on Windows. It has been downloaded more than 4 million times and has a solid 5-star rating from users. It is free for personal use and features a clean and simple user interface. Its advanced search algorithm provides quick results. You can find files like photos, music, videos, documents, archives, and emails. The software will scan your entire hard drive or selected partitions for deleted data. It also allows you to preview the found files before saving them on your computer.
Disk Drill
This is one of the few tools that can recover deleted files without having to do a deep scan. It also supports hard drives as well as external storage devices. Disk Drill is compatible with all current versions of Windows and Mac operating systems. It scans and recovers data from memory cards and USB flash drives too. Since it does not need to go through the complete file structure of the computer, it gets faster and more effective at recovering your files. With its easy-to-understand interface, it is great for beginners. It is a very popular option among tech-savvy people too. It offers a free version that allows you to do data reco of up to 500MB, and since it's so fast and easy to use, it's perfect for an emergency data reco on some light files.
EaseUS Data Recovery Wizard Free Edition
EaseUS is known for its innovative products, and this data reco software is no exception. It is compatible with both Windows and macOS. It has an intuitive and easy-to-understand user interface, based heavily on the Windows file explorer. It supports all types of hard drives and can also recover data from external storage devices. It is especially useful for those who don't know how to access hidden files. EaseUS also provides cloud backup as part of its paid versions. You can recover up to 2 GB of data on its free version and it's specially optimized for FAT format data reco, which makes it really useful.
FreeUndelete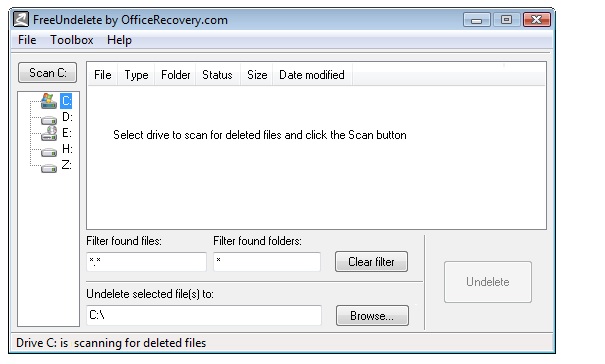 FreeUndelete is another freeware application designed for Windows. It has a clean and simple UI. It supports all kinds of media files, including photos, audio, video, documents, emails, and archive formats. FreeUndelete does not require installation, and can easily be launched from a removable storage device. It has a small footprint and takes up less space on your hard drive. It performs a deep scan without slowing down your computer. It has a built-in preview function, where you can see each file before deciding to save or delete it.
iBoysoft Data Recovery Free
iBoysoft Data Recovery Free is a freeware data reco application. It supports a wide range of file types, including all major document, image, audio, and video file formats. It is a good option for anyone looking to recover deleted photos, music, or videos. It has an intuitive interface. It works on Windows and macOS. It has a powerful algorithm for locating and identifying lost files. It comes with a file preview feature. It allows you to recover data from hard disks, memory cards, and digital cameras. It must be installed so it's not really a plug-and-play solution but it's still excellent software.
download iboysoft data recovery
Conclusion
Remember these are just some of our go-to picks when it comes to free data reco software, but there are plenty of other options out there for you. And all of the ones mentioned here have their own paid versions if you really need the extra features that come with them. Just make sure you read the fine print to determine whether or not those features are essential for your needs.
So now that you know what to look for in a data reco tool, you won't have to freak out when something happens to your data. Remember, the best solution for this is always making backups of your information, especially if it's important to you. So yes, prevention could very well be the best solution, but we know not everybody has fast internet to do cloud backup, and no matter how many physical backups you have, accidents and data corruption are always a possibility.
This list is just meant to help get you started on your search for the best data reco software. So even if you don't need it right now, be sure to bookmark this page as it may come in handy someday for you. Good luck!