Do you need to change the contents of a PDF file?
If you want to choose a PDF editor, you're in for a tough journey. It's not easy to find a free PDF editor that lets you not only edit and add text but also change images, add your own graphics, sign your name, fill out forms, and more. There are just so many online and offline tools available that it's impossible to try them all.
When selecting a free editor for PDFs, make sure it has the features you need. Some free Adobe Acrobat alternatives are better than others.
The following 3 best free PDF editors let you quickly and easily make changes to your PDF files.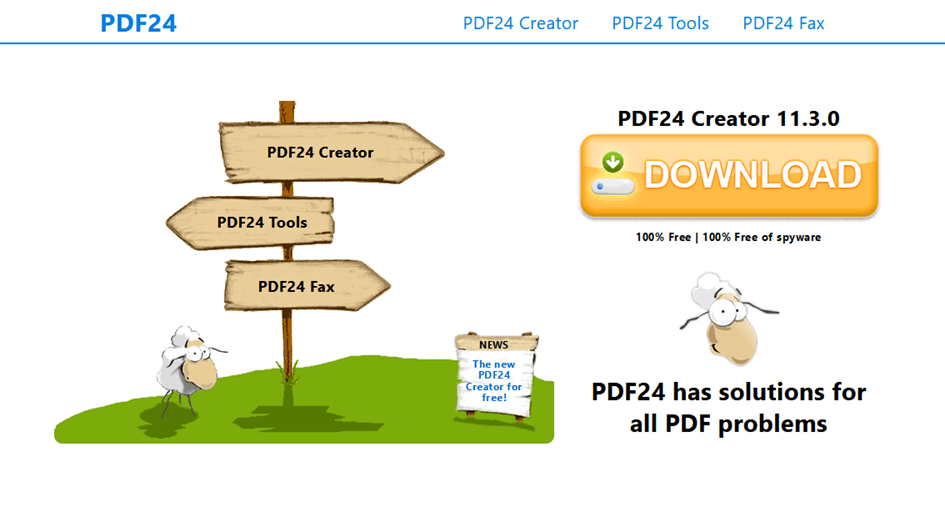 PDF24 is the first of the 3 Best Free PDF Editors. Offers free and easy to use PDF solutions for many PDF problems, online and as software for download. Here's a list with some of the most used tools PDF24 offer:
1.PDF Creator – Easily assemble, create and modify PDF files with the Drag & Drop enabled user interface.
2.PDF Printer – Is a universal PDF converter that converts any printable file to PDF.
3.PDF Reader – A full featured and lightweight PDF Reader for displaying PDFs
All Tools:
The PDF24 Creator brings all PDF24 tools as offline version. All files remain on your PC. You can install it only on Windows systems. The PDF24 Creator is free of charge for both private and commercial purposes.

Smallpdf's free online PDF editor offering is super-basic : edit and compress PDFs. The free version of the software has limited functionality, and some of the more advanced features must be purchased.
One thing that sets this free PDF editor apart from the other two is that it's available in 24 different languages and used in 195 countries around the world. Is the most visited website in Switzerland and consistently in the top 200 most visited websites in the world.
If you want even more functionality, you can upgrade to Smallpdf's premium edition. While the web version is slightly cheaper, you can pay a bit more to take advantage of the desktop version, and be able to work offline. Smallpdf has a PDF software for your Windows, Mac, iOS, or Android device within seconds. 21 tools to convert, compress, edit, and modify PDFs for free.
Sejda one of the best free PDF editor has impressive features, 30+ free and paid tools. It allows you to edit your PDF files easily. This editor can run entirely in your web browser, so it's easy to get going without having to download any programs. If you really want you can get the desktop version, if you'd rather use it that way.
Regardless of which free version you choose, Sejda limits you to working on a maximum of three tasks per day, one file at a time and files can't be larger than 50MB or 200 pages.
On their website you can find also a How-to PDF Guides with very useful information that will make your process easier.
Sejda PDF Desktop is available for MAC, Linux and Windows.
How to choose the best free PDF editor
When deciding which free PDF editor is best for you, first consider what do you want to do with your PDF file. If you're just trying to add text to a form digitally, you'll just need a basic editor that supports text insertion.
However, if you need to change the content of a PDF substantially, you'll require a more powerful PDF editor that can make modifications to text or images already stored in the file. In some cases, especially if you want to change almost all the content of your file, it may be better to use a dedicated PDF converter instead.