Email is one of the most important tools a person can use to stay in touch with friends, family, and business contacts. It allows people to communicate efficiently by exchanging messages, attachments, and files.But what if you don't have your email address and want to create a new one free of cost?
As you know, plenty of free online email service providers will give you an email address without spending time. On the other hand, what if you are tired of using one email service over and over and want some free alternatives?
Multiple options are available if you are trying to choose a reliable free email service with the ideal features. Finding a free online email service provider that combines the correct functionality and usability can be problematic.
In this article, we have compiled a list of the various email account types with free email ids you can create, followed by the top email service providers in 2023 for both personal and business usage. So, Let's dive into the article.
1. Gmail: Best Free Email For Offline Usability
Gmail is at the top of this ranking of the best free email accounts is probably not a surprise. According to Litmus Labs, Gmail has the second-highest market share among all email providers, which makes it one of the most popular and commonly used email services on the internet. There are several reasons why it is so popular.
Plus, since Gmail syncs automatically across all your devices (including desktop computers and mobile phones), there's no need to worry about losing essential emails or storing them in a different format on each device. In short, Gmail offers everything you need in an online email service without any unnecessary bells or whistles—making it ideal for both personal and business use alike!
What makes Gmail the best Email Service:
Let you un send emails/messages

The advanced search tool for locating certain emails.

You get 15GB of free email storage with Gmail.

Almost every internet-connected device can access it.

With a 99.9% protection rate against spam and malicious emails, Gmail offers good security.

Tightly integrates with other Google services.
2. Proton Mail: Best for Encrypted Emails
Proton Mail is one of the best email service providers because of its encrypted emails. They exclusively use encrypted emails and anonymous registration as part of their security approach. The expiry time of encrypted messages can be set, making them inaccessible and deleted after a specific period.
However, this service is excellent for personal use if you need to send or receive sensitive information.
What makes Proton Mail the best Email Service:
End-to-end data encryption.

For account creation, no personal details are required.

Encrypted emails to non-Proton users

Choose email expiry duration.
3. Outlook: Best Free Email for Integrated Multi-App Use

Outlook has been around for over 30 years, and its popularity is only growing. In fact, Outlook was recently named the most popular desktop email client by Statista. This popularity comes from its ability to integrate with other apps and devices, making it one of the best free online email services for your needs in 2023.
Outlook is a good choice if you are looking for a user-friendly email service. It has many more features, including a clean UI, 15GB of free storage space, and the ability to link with versatile business-friendly applications.
What makes Outlook the best Email Service:
Mail sent across many accounts can be anonymous.

Possible to recover unintentionally deleted emails.

Easily accessible to other Microsoft applications like Skype, Excel, etc.

Automatic Mail organization

Strong search engine
4. Yahoo Mail: Best Free Email for Remarkable Email Storage

Yahoo Mail is one of the most established and well-known email services providing free email ids available today, and it offers several outstanding features. You may send up to 50 files as attachments and have a massive 1 TB (1000 GB) of storage space with a free email account from Yahoo Mail.
The compose window is comparable to Gmail. Custom background themes, layouts, and a built-in GIF library are all options present in Yahoo Mail.
What makes Yahoo Mail the best Email Service:
Fantastic emails organization

A massive amount of email storage (1 TB).

Many disposable aliases

Integration of Yahoo Calendar from the email area

Quick alerts for recent emails

A better security system to protect your account
5. AOL: Best for Interface Management
One of the early internet service providers, AOL (America Online), has subtly maintained a high standard of user experience. This email provider has continued to offer simple, latest services. You can filter your messages like most email companies, display particular ones, and have modern spam filters and anti-malware protection through AOL.
What makes AOL the best Email Service:
Maximum Email storage with a 25MB attachment limit

Easy access to a calendar and to-do list.

Highly adaptable, with a variety of themes to select from.

Spell-checker before sending emails.
6. Zoho Mail: Best for Working in Teams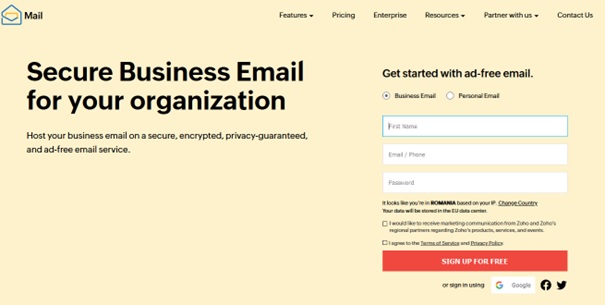 The Zoho Mail service is ideal if your company is new and your crew is expanding. Free Zoho Mail accounts may establish up to 25 business addresses and have 5 GB of storage.
Along with connecting with Google Docs and several other services, Zoho also has an integrated instant chat called Zoho Chat. You can add new tasks and notes, use keyboard shortcuts, and more through Zoho Mail.
What makes Zoho Mail the best Email Service:
Advance Folders, Calendars, labels, and search filtering

Simple and elegant interface

It's simple to connect to other Zoho apps

Supports email windows with tabs.

Free Custom Domain

Offline and ads free
Conclusion
Regardless of your business type, you will need to utilize email, but this does not imply that you must pay to get email accounts. These free email services are reliable, simple to use and provide excellent choices for your company. Finally, we draw attention to the following factors so that you may choose a service provider based on your needs.