Do you want to make sure your flat screen television stays in top condition, but don't know where to start? With regular use, flat screen TVs can easily accumulate dust, dirt and other contaminants that can affect its performance and longevity over time. Research by the Electronics Manufacturer's Association (EMA) shows that 80% of consumers admit to not knowing how to properly clean their own flat screens. But fear not, this article will guide you through the steps necessary for mastering the art of cleaning a flat screen TV cleaning.
What is Flat Screen Television Cleaning?
Flat screen television cleaning is the process of removing dirt, dust, and other contaminants from the surface of your TV, in order to maintain its performance and extend its lifespan. Cleaning your TV regularly is essential to prevent dust from building up, which can affect the clarity of the picture and potentially harm the device's internal components.
How to Clean your Flat Screen TV like a PRO
Step 1: Gather the Proper Tools and Supplies
Before you start cleaning your TV, you'll need to gather the proper tools and supplies. Here is what you'll need:
Microfiber cloth
Distilled water
Spray bottle
Soft bristle brush (optional)
It's important to use a microfiber cloth as they are gentle and non-abrasive, which is important when cleaning delicate electronics. Distilled water is recommended as it is free from impurities that can damage the surface of your TV. A spray bottle is ideal for evenly distributing the water, while a soft bristle brush can be used to gently remove any stubborn dirt or dust.
Step 2: Power Off and Unplug Your TV
Before cleaning, it is essential to power off and unplug your TV. This will prevent any accidental damage from electrical shocks and ensure that your device remains safe from harm.
Step 3: Dust the TV
Using a soft bristle brush, gently dust the surface of your TV to remove any loose dirt or dust particles. Be careful not to apply too much pressure as this can scratch the surface of the TV.
Step 4: Clean the TV Screen
Once you have dusted the TV, it's time to clean the screen itself. To do this, simply spray some distilled water onto your microfiber cloth and gently wipe the surface of the screen. It's important to avoid using too much water, as this can cause streaks or damage the device's internal components.
Step 5: Dry the TV Screen
Once you have cleaned the screen, you'll need to dry it thoroughly. Use a dry microfiber cloth to gently wipe away any remaining moisture.
Step 6: Clean the TV Frame
Next, clean the frame of the TV using the same method as the screen. Ensure that you get into all the crevices and corners, as dirt and dust can accumulate here as well.
Step 7: Reassemble the TV
Once the frame has been cleaned, it's time to reassemble the TV. Make sure all cords and cables are connected properly and that the TV is plugged back in. Power on the TV and check to make sure that it's functioning properly.
Expert Advice On Flat Screen TV Cleaning
Caring for your flat screen TV can be a tricky task. Proper cleaning and maintenance of the television is key to preserving its picture quality and ensuring it works correctly. When considering how best to clean your flat screen, there are several factors that must be taken into account, such as the remote control, plasma screen and various cleaning methods available.
To ensure optimal performance from your flat screen TV, experts recommend using a combination of lint-free cloths, specialized screen cleaning solutions and appropriate techniques when tackling any dirt or dust build up on the surface. Utilizing these products and techniques will help restore the original picture quality while also avoiding damage to delicate components like the LCD panel overlays. Be sure to use only soft brushes and never spray liquids directly onto the device itself; instead opt for dampening a microfiber cloth before wiping down with it.
DIY: Make Your Own Flat Screen TV Cleaner at Home
When it comes to cleaning flat screen TV, many people turn to white vinegar and water.
With a few simple items in hand – namely white vinegar, water, dish soap and a clean cloth – you are able to safely restore her TV's clarity without damaging its surface.
Here are five steps that can help you do the same:
Dilute equal parts of white vinegar and water into a bowl or cup.
Dampen a soft cleaning cloth with this solution.
Gently wipe down the entire flat-screen tv using circular motions.
To remove stubborn marks, apply some light pressure while wiping over them.
Finally wash away any residue from your cleaning efforts with fresh soapy water prior to drying off your television set completely with another dry cloth.
By following these easy steps, anyone can effectively use white vinegar and water as an effective method for keeping their flat screens TVs looking sparkling clean!
Top Tips&Tricks for Cleaning Your Flat Screen TV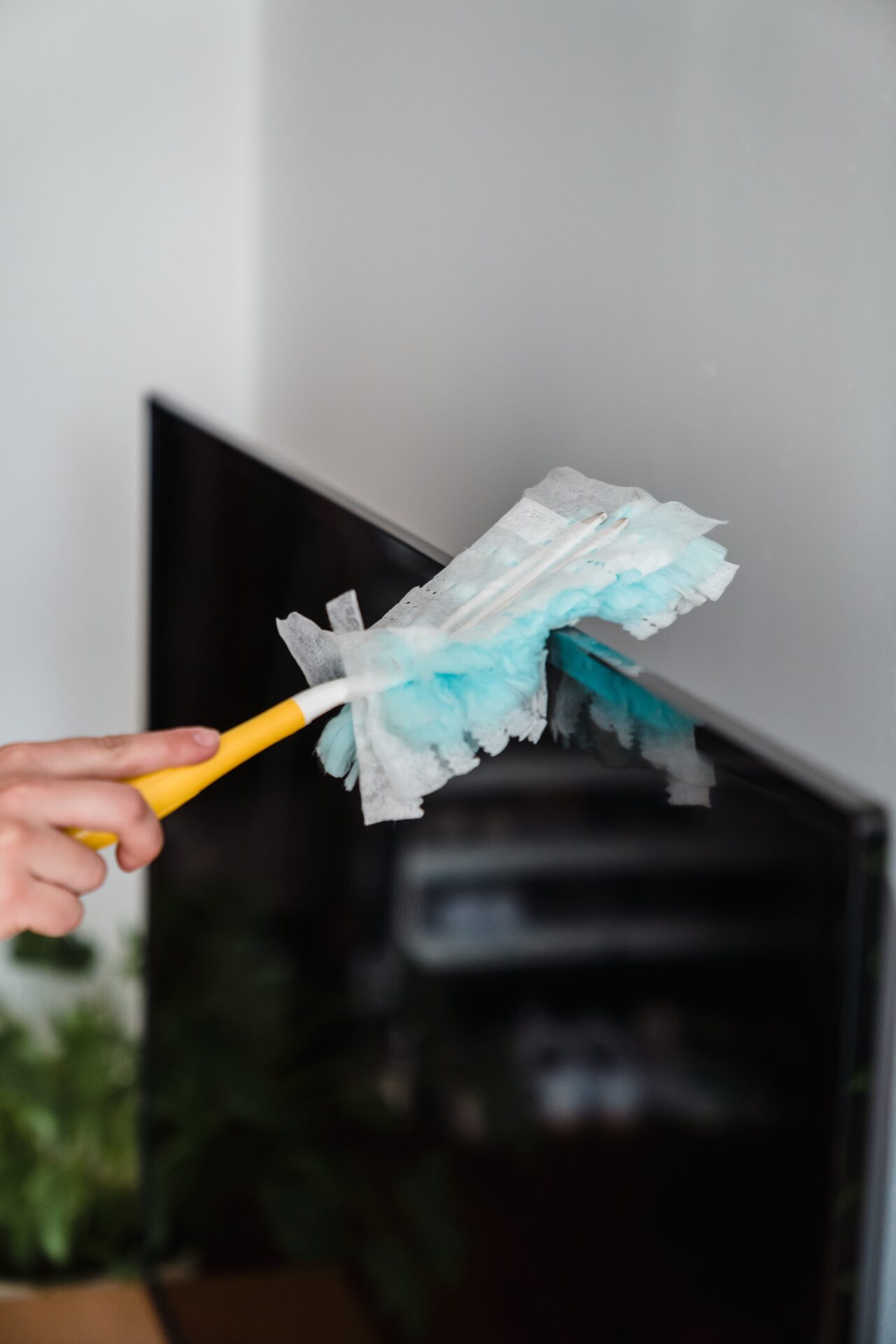 Tip&Trick 1: Avoid Harsh Chemicals and Abrasive Materials
The first thing to keep in mind is that harsh chemicals and abrasive materials can be very damaging to the surface of your flat screen TV. This is why it's important to avoid using things like paper towels or rough cloths when cleaning the screen. Instead, opt for a gentle microfiber cloth for general dusting purposes and a cotton swab for removing stubborn areas or dirt build-up.
Tip&Trick 2: Use Light Pressure When Spraying Water
If you decide to use a spray bottle filled with water, it's important to apply only light pressure. This is because the anti-glare layer on your screen can be easily damaged if too much pressure is applied. To avoid any damage, simply hold the bottle about 6-8 inches away from the screen and apply only a light mist of water.
Tip&Trick 3: Opt for an Electrostatic Duster
When it comes time to remove loose dust from your flat screen TV, an electrostatic duster is the best option. Unlike paper towels, which can leave behind lint and fibers, an electrostatic duster attracts and removes dust without leaving any residue. Simply run the duster over the screen, and all of the dust will be gone.
Conclusion
Flat screen TVs have become increasingly popular, leading many to question the best ways to clean them. Although there are numerous cleaning products and cloths that can be used, it is not always easy to determine which one is safest and most effective for flat screen TVs. It is important to note that commercial glass cleaners should never be used on a flat screen TV as they contain harsh chemicals that could damage its delicate surface. A microfiber cloth or soft cotton rag dampened with warm water and mild soap should be used instead. Additionally, screens must be cleaned regularly in order to keep dust buildup from obscuring images, yet care must also be taken so as not to scratch the display while doing so.
Ultimately, mastering the art of cleaning a flat screen TV requires knowledge of proper procedures as well as an understanding of what materials work best for this particular task. Though selecting the ideal product or fabric may prove challenging at first, following these guidelines will ensure successful results every time! Furthermore, taking time each week or month to properly maintain a flat screen television will help extend its life span significantly, thus saving money and energy in the long run.
In conclusion, although some practice may be required before achieving optimal results when caring for your flat screen TV, knowing how often it needs to be done and which tools are safe to use can go a long way towards keeping it looking pristine for years to come. With this information handy and a bit of patience, you'll soon master the art of flat screen maintenance — leaving behind worry and stress over potential damages resulting from improper techniques!
FAQs about How to Clean your Flat Screen TV
What Type Of Cleaning Products Are Safe To Use On A Flat Screen TV?
When it comes to maintaining a flat screen television, the type of cleaning products used is crucial. A range of materials can be safely employed with proper application; however, some items should not be utilized under any circumstances. To begin with, microfiber cloths are great for removing dust and dirt particles without leaving streaks or scratches on the surface. Additionally, specialist electronics wipes can also be employed as they provide extra protection against smudges and fingerprints that often accumulate on screens over time.
In contrast, traditional household cleaners such as detergents and window sprays are unsuitable for use. These may contain solvents which could damage the coating of the display – leading to degradation in picture quality or permanent staining. Moreover, abrasive sponges must never be employed due to their texture potentially causing scratches which cannot be removed even after thorough washing with water.
Therefore, when tackling grime build-up on a flat screen TV, selecting suitable cleaning products is essential. Through careful consideration and appropriate implementation of these items users will ensure that their devices remain pristine and functioning at optimum levels for many years to come.
Is It Safe To Use A Commercial Glass Cleaner On A Flat Screen TV?
A recent survey by Consumer Reports reveals that over 95% of households in the United States own at least one flat screen television. With this proliferation of technology, it is important to understand how best to clean and maintain these devices for maximum efficiency and longevity. One key question many owners may have is whether or not it is safe to use a commercially available glass cleaner on their flat screen TVs.
The answer depends largely on the type of material used to construct the TV's display surface. For example, if your flat screen has an LCD panel with a plastic coating, then using products like Windex will most likely be fine as long as you avoid spraying directly onto the device itself. On the other hand, if your TV utilizes an OLED (organic light-emitting diode) panel or plasma display, then commercial glass cleaners should generally be avoided due to their higher concentration of alcohol which can damage delicate components within the screen.
It is always recommended to consult your manufacturer's user manual before attempting any cleaning procedures on your flat screen TV; this way you can find out what specific cleaning solutions are approved for use with your particular model and avoid potential risks associated with using unapproved chemicals and liquids. Additionally, check to see if there are any special instructions from the manufacturer such as wiping gently in only one direction or avoiding circular motions when cleaning. Following these guidelines will help ensure that your viewing experience remains optimal and enjoyable for years to come!
What Kind Of Cloth Is Best To Use To Clean A Flat Screen TV?
When cleaning a flat screen television, it is important to choose the right type of cloth. While some people may think that any kind of soft cloth can be used, this is not necessarily true. The wrong type of cloth can damage the surface and reduce the clarity of the picture. Therefore, it is essential to select an appropriate material for cleaning.
To start with, microfiber cloths are ideal as they help to remove dust and smudges without leaving streaks or scratches on the screen. They also absorb oil better than cotton or paper towels and do not leave behind lint residue. Additionally, these materials produce less static electricity when wiped across the monitor, which helps avoid potential shocks or unwanted sparks around delicate electronic components inside the device.
In order to get optimal results from using a microfiber cloth you should:
Use a dry one – Wetting it will only increase the risk of damaging your TV's display.
Avoid using too much pressure – Wiping hard can cause dirt particles to scratch into the surface of your TV's display.
Clean in one direction – Moving back and forth could create visible lines on your TV's display over time.
For those who prefer other types of cloths for their TVs, there are several alternatives available:
Anti-static wipes contain anti-static agents that prevent electric charges building up on surfaces
High quality natural fiber clothes such as chamois leather provide excellent absorption capabilities providing streak free finishes once cleaned off with water afterwards
Specialized electronic wipes make great solutions due to their ability to quickly clean away fingerprints and oils without leaving behind residues or smears on screens either
Selecting a suitable fabric therefore is vital in order to keep our flat screen televisions looking good and functioning properly. By choosing wisely according to need we can ensure our beloved electronics remain safe from harm throughout regular use whilst enjoying all their features at their best!
How Often Should I Clean My Flat Screen TV?
Like a painter carefully cleaning a canvas, it is important to clean and maintain one's flat screen television regularly. After all, this has become the focal point for many people's entertainment hub in their homes. As such, the frequency of cleaning should be thoughtfully considered.
Just as an artist must choose the right brush and paint colors to create a masterpiece, so too must careful consideration be given when selecting which materials to use while cleaning your flat screen television. Similarly, deciding how often to clean your flat screen tv requires due diligence; like brushing teeth or vacuuming carpets, there are recommended intervals that will ensure optimal performance and visual clarity with minimal effort. In other words, by embracing preventative maintenance rather than waiting until dirt and dust build up on the surface, you can save yourself time and hassle down the road.
With regular upkeep, viewers can look forward to enjoying crisp visuals without compromising quality over time. So take the proactive approach today: pick up a microfiber cloth and give your tv some tender loving care at least once every week or two!
How Can I Avoid Scratching The Flat Screen TV While Cleaning It?
Cleaning your flat screen TV can be a daunting task, with the risk of scratches and smudges if not done correctly. To ensure that you master this art of cleaning without damaging your device, understanding how to avoid scratching is essential.
The first rule of thumb in avoiding any damage while cleaning your TV is to use a soft cloth. Microfiber cloths are great for helping remove dirt and dust from the surface without causing any harm or further marking on the screen. Additionally, always check what kind of cleaner is recommended for your specific type of television, as some may require specialized cleaners which could potentially void warranties or cause more damage than good. Be sure to also read instructions carefully before applying any liquid directly onto the surface; it is best to spray the cleaner onto the cloth rather than on the TV itself. Finally, when wiping down surfaces, do so gently in circular motions instead of scrubbing back and forth – this will help prevent scratching or other damages caused by too much pressure being applied during cleaning.