Steam is a popular gaming platform that allows users to purchase, download, and play a wide variety of games. However, sometimes a game may not meet your expectations or simply not work on your system. In these cases, you may want to request a refund from Steam. In this article, we will go through the process of how to return a game on Steam and get a full refund.
Reasons to Return a Steam Game
There can be various reasons why you may want to return a game on Steam, here are some common reasons:
The game did not meet your expectations
The game is not compatible with your computer
You accidentally purchased the wrong game
Experienced technical difficulties with the game
You had a change of heart about the purchase
It's important to note that Steam's refund policy is in place to ensure fair treatment for all customers. Therefore, it's important to be honest and specific when requesting a refund.
Check if Your Purchase is Eligible
Before requesting a refund, it's important to check if your purchase is eligible.
To be able to request a refund on Steam, make sure that the purchase meets the following requirements:
You purchased the game within the last 14 days
You have played the game for less than 2 hours
Check the game's specific refund policy to confirm that any DLC, virtual items, or in-game items are eligible for refund.
How to Return a Steam Game Step-by-Step
Here is a step-by-step guide on how to return a game on Steam and get a full refund:
Log in to your Steam account on your computer.
Step 2: Find the Game You Want to Return
Locate the game in question in your library.
Step 3: Select the Refund Option
Click on the game and select "Support" from the drop-down menu.
Step 4: Select Your Refund Method
Select "I would like a refund."
Step 5: State the Reason You want to Return a Game
Fill out the requested information, including the reason for your refund request.
Step 6: Check Your Email for Confirmation
Click on "Submit Request". You will receive a confirmation email once the refund request is submitted.
Step 7: Wait for the Refund
Once you have submitted a refund request, it may take several days for Steam to process it. If your request is approved, Steam will return the money either to your Steam Wallet or to the original payment method used for the purchase.
One question that often comes up is, "how long does it take to refund a game on Steam?" The answer is that it can take several days for the refund to be processed.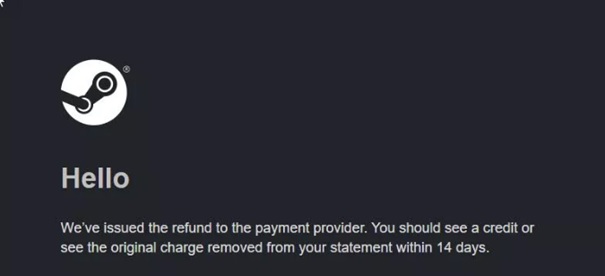 In some cases, you may have played a game for more than 2 hours and still want to request a refund. In this case, you can still submit a refund request through Steam's help page. Keep in mind that your chances of success will be lower. It's important to provide clear and concise reason for refund. Provide any technical support information that can help Steam understand your reason for the refund, such as error messages and screenshots.
How to Refund a Gifted Game on Steam
What if the game you want to return was a gift? Fortunately, the process for refunding a gifted game is similar to returning a game you purchased yourself. The person who received the gift will need to follow the same steps outlined above. However, it's worth noting that if the game has already been played for more than 2 hours, the refund request may not be approved. Additionally, if the gift was received more than 14 days ago, it may not be eligible for refund.
How to Sell a Game You Bought on Steam
Selling a game on Steam is not possible in the traditional sense, as games on Steam cannot be sold like physical products. Steam does not allow users to transfer ownership of games. However, you can sell your Steam account with the games included. It's important to note that this may be against Steam's terms of service and can also have legal and moral implications.
In conclusion, requesting a refund on Steam is a straightforward process that can be done within a few minutes. Keep in mind the eligibility requirements and the reason for the refund to increase the chances of it being approved. If you have any further questions, you can visit the Steam help page for more information. Remember that Steam's refund policy is in place to ensure fair treatment for all customers. Be honest and clear in your request and you'll be on your way to getting your money back.