Are you tired of spending hours on end creating documents, presentations, and emails? Do you struggle to find insights and trends in your data? Microsoft 365's latest update might just be the answer to your productivity woes. With AI-powered CoPilot, users can generate content and unlock insights in a fraction of the time.
By integrating GPT-4 from OpenAI, Microsoft CoPilot can work alongside users in Word, Excel, PowerPoint, Outlook, Teams, and more, providing suggested tones and even creating first drafts. With this powerful tool, Microsoft is leading the way towards a future of work where AI-powered assistants help us achieve more than we ever thought possible.
Revolutionizing Productivity: Microsoft's AI-powered CoPilot Integrated Across Office 365 Apps
Microsoft has recently announced its latest AI-powered Copilot feature, which will be integrated across Microsoft 365 apps, including Word, Excel, PowerPoint, Outlook, Teams, and more. The Copilot, powered by GPT-4 from OpenAI, is designed to assist users with generating documents, emails, presentations, and much more.
According to Jared Spataro, head of Microsoft 365, Copilot is a whole new way of working as it works alongside users, embedded in the Microsoft 365 apps they use every day, and can be accessed through Business Chat that works across the LLM, the Microsoft 365 apps, and users' data.
Let's take a closer look at what Copilot can do for each Microsoft 365 app.
What can Microsoft Copilot do in Word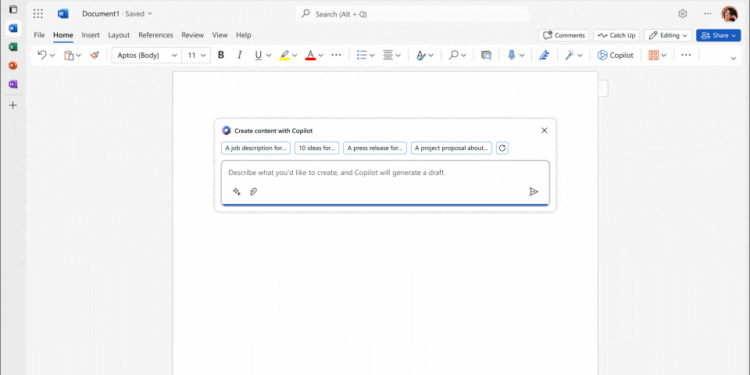 With Copilot in Word, users can work more efficiently and with greater ease. By using natural language commands, users can quickly format text, tables, and charts with just a few clicks. They can also use Copilot to automate repetitive tasks, such as creating and updating tables of contents and indexes.
Another useful feature of Copilot is its ability to help users with research, suggesting sources and even helping them properly cite their sources with footnotes or endnotes. Copilot can also help users work better together by suggesting revisions and comments, making collaboration easier and more effective.
Overall, Microsoft Copilot in Word is a versatile tool that can assist with everything from document creation to formatting and research. Its AI-powered features can help users save time, reduce errors, and produce better quality work. By simplifying the writing and editing process, Copilot allows users to focus on their ideas and express them more effectively.
Alrighty, let's dive deeper into the world of Microsoft Copilot and how it can level up your PowerPoint game. So, you know how sometimes you have this brilliant idea for a presentation, but the thought of actually creating it from scratch makes you want to crawl under a rock? Enter Copilot in PowerPoint! This handy tool uses natural language commands to help you turn your ideas into a stunning presentation with ease.
One of the coolest features of Copilot is that it can take an existing written document and turn it into a complete presentation, complete with speaker notes and sources. Say goodbye to spending hours manually copying and pasting text into PowerPoint slides! Copilot can do it for you, freeing up your time to focus on the content and messaging of your presentation.
But what if you're starting from scratch? No problem! With Copilot, all you need is a simple prompt or outline to get started. Just tell Copilot what you want to cover in your presentation, and it will generate slides for you, complete with text, images, and formatting. It's like having a personal presentation designer at your fingertips!
Now, let's say you have a lengthy presentation that you need to condense. Copilot has got your back! With just a click of a button, you can condense your slides and eliminate any redundant or unnecessary information. Plus, if you need to make any adjustments to your presentation, you can use natural language commands to do so. Want to change the layout of a slide? Just tell Copilot what you want, and it will take care of it for you. Need to reformat some text? No problem! Copilot can handle that too. And if you want to make sure your animations are timed perfectly, Copilot can help with that as well.
Overall, Microsoft Copilot is a game-changer when it comes to creating presentations in PowerPoint. With its natural language commands and intuitive design, it's never been easier to turn your ideas into a polished and professional presentation. So the next time you have a big presentation coming up, give Copilot a try and see how it can make your life easier!
What can Microsoft Copilot do in Excel
If you're someone who spends a lot of time working with data, Microsoft Copilot in Excel can be an invaluable tool. It allows you to streamline your workflow and make sense of your data more quickly and efficiently. With Copilot, users can access Excel's extensive formula library with ease, allowing them to perform complex calculations and analyses with just a few clicks. Copilot can also automatically generate charts and graphs to visualize data, saving users time and effort.
One of the most impressive features of Copilot in Excel is its ability to learn from users' data and suggest insights or predictions. By analyzing patterns in the data, Copilot can identify trends and provide users with actionable insights. Users can also use Copilot to create forecasts and perform simulations to test different scenarios and evaluate potential outcomes.
In addition to its analytical capabilities, Microsoft Copilot in Excel is also a powerful tool for collaboration. Users can easily share their workbooks with others and allow them to view or edit the data. Copilot can also suggest collaborative actions based on the data, such as inviting others to contribute to the analysis or sharing the insights with stakeholders.
Overall, Microsoft Copilot in Excel is a game-changer for anyone who works with data regularly. Its intuitive interface and powerful features make it easy to analyze and explore data, and its collaboration tools help streamline workflows and drive better outcomes.
What can Microsoft Copilot do in Outlook
Moreover, Copilot in Outlook can also help users compose new emails more efficiently. It can suggest replies to messages, based on the context of the email, so that users don't have to spend time typing out a response.
It can also help users write more polished and professional emails by suggesting appropriate greetings, closings, and tone based on the recipient and the content of the email. Additionally, Copilot can help users manage their schedule by suggesting optimal times for meetings based on the participants' availability, automatically scheduling appointments, and even helping to manage email reminders and follow-ups.
What can Microsoft Copilot do in Teams
Microsoft Copilot in Teams is the perfect assistant to make meetings more productive and efficient. With real-time summaries and action items directly in the context of the conversation, users can now focus on the discussion without worrying about taking notes or missing important information. Copilot provides a new level of convenience and collaboration by capturing key discussion points, ideas, and action items as they happen during the meeting. This feature allows attendees to have a clear understanding of the conversation, and what was discussed in real-time.
Another great advantage of Copilot in Teams is its ability to create a meeting agenda automatically based on the chat history. This feature saves time and effort by organizing the conversation and highlights the essential topics that need to be discussed in the meeting. Copilot also helps users identify the right people for follow-ups based on their past conversations and shared interests. Furthermore, it can also help schedule the next check-in to keep the momentum of the conversation going.
In addition, Copilot in Teams also offers some unique features that make meetings more productive and inclusive. For example, it can provide live transcription and translation to help attendees understand the conversation regardless of language or hearing ability. It can also suggest relevant files and documents to the conversation, making it easier to share and access information. Overall, Copilot in Teams is a valuable tool for anyone looking to increase their productivity and collaboration during meetings.
Microsoft has also announced Business Chat, which taps into the power of the Microsoft Graph in real-time to bring together data from across documents, presentations, email, calendar, notes, and contacts. Business Chat is an entirely new experience that works across all users' data and apps, empowering them to do things they've never been able to do before. Business Chat works alongside users, using the power of the Microsoft Graph to bring together information from multiple sources to keep everyone on the team on the same page and moving forward together. Users can spend less time focused on the tools and more time focused on the most important work.
FAQ
2023 Update
What is Microsoft Copilot and where can I download it?
Microsoft Copilot is an AI-powered code completion tool developed by Microsoft and OpenAI. It is currently available as a Visual Studio Code extension. To download Microsoft Copilot, go to the Visual Studio Code marketplace and search for "Copilot" or "GitHub Copilot". Alternatively, you can visit the Copilot website at https://copilot.github.com/ and follow the instructions provided.
How do I install Microsoft Copilot?
To install Microsoft Copilot, you must first have Visual Studio Code installed on your computer. Once you have installed Visual Studio Code, you can install the Copilot extension by following these steps:
Open Visual Studio Code.
Click on the Extensions icon in the sidebar (or press Ctrl + Shift + X).
Search for "GitHub Copilot" in the extensions marketplace.
Click the "Install" button next to the GitHub Copilot extension.
Wait for the installation to complete.
Reload Visual Studio Code.
How much does Microsoft Copilot cost?
Microsoft Copilot is currently available for free as a Visual Studio Code extension. However, it is important to note that the AI model used to power Copilot is based on OpenAI's GPT-3, which is a commercial product. This means that Microsoft is likely paying a significant amount of money to license the GPT-3 model, and may choose to charge for Copilot in the future.
Conclusion
In conclusion, Microsoft's new AI-powered CoPilot integrated across Word, Excel, PowerPoint, Outlook, Teams, and more, offers a wealth of benefits to users, including generating documents, emails, presentations, and much more. With its ability to work alongside users in their daily tasks, it has the potential to revolutionize productivity for individuals and businesses alike.
The combination of natural language commands, suggestions, and real-time data analysis makes for an intuitive and user-friendly experience. Microsoft's continued commitment to integrating AI into its products is a promising sign of the direction technology is moving in. If you found this article informative and useful, please share it with your friends and colleagues.