In today's world, it has become pretty much second nature to write everything digitally. Even for kids, it's much easier for them to write on word processing software than using pen and paper, something that is pretty much unthinkable for the advanced-age folks out there. But whatever may your case be, the truth is that you just need to know how to handle word-processing software in our time. And something important about it it's knowing all the tips and tricks. Today we'll be talking about one of the most basic ones, but that will come in very handy. And that is to know how to use the word count, you may be wondering why does it matter the number of words on your document,right?
Why you should keep an eye on the word count ?
There are plenty of possible reasons you might want to keep an eye on the word count of your document. For some objectives, it is best to keep things short and concise. If you have a book or even a novel, the length can be problematic because that means more pages, which would mean more money spent on printing it. Or if you're writing a short story or something similar, the number of words will determine whether you should send it to a publisher or not.
Whatever your objective may be, knowing how to read and use the word count properly can be helpful for you. Let's say that you're writing a series of articles. The first one is rather long, so you think you could divide it into two parts. When you open up the word count menu, you see that while the first part is quite lengthy, the second part only has around 500 words on it. This means that it will take you twice as much time to write it compared to the first one, and so you decide to go ahead and write it like that. You probably won't get the same results when you're writing a novel, but this example is a good one to give you an idea of what we're trying to explain here.
How to check the word count on Google Docs?
Word count is a feature that is available in most word-processing software. It is used to calculate the number of words in a document. The word count feature can be found in Microsoft Word, Google Docs, and Apple Pages. It can also be found in other popular word processing software such as Open Office and LibreOffice.
The word count feature is usually located on the status bar at the bottom of the screen or in the top right corner of the screen next to the cursor. Since many people don't pay attention to it, it can sometimes be hard to spot, and since we want to help you no matter what platform you're using, we'll discuss how to check the word count on Google Docs, which is available everywhere, from an Android smartphone to an M2 MacBook Pro. And you'll see this process is fairly simple:
First, you want to go to the menu bar on the top of the site after you open a new Google Docs document and press the "Tools" option.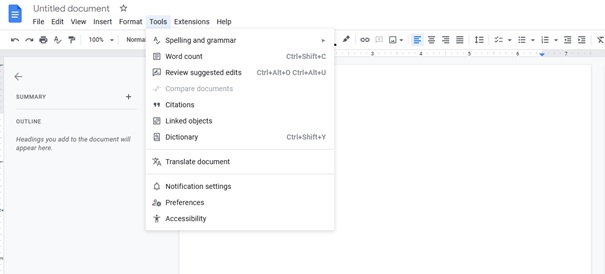 After clicking on Tools, you'll see "Word Count" as one of them. Clicking it will give you the word count of your current document. But there's more.
To be able to control it as you write you should check the box that says "Display count while typing" this will enable a small box on the bottom left of the screen with the word count for your current document that will update in real-time.
Or Shortcut : Ctrl + Shift + C .
That's it! As you can see it's pretty simple to use the Google Docs word count, and it's pretty similar in most word processing software you could use. So, next time you're writing something, make sure to keep an eye on the number of words you're using!